Interested in becoming a Python developer? Want to find a stable opportunity working with the language?
What Jobs Require Knowledge of Python?
Any jobs that require knowledge of Python are going to involve web, cloud-based and database software development.
Some examples of job titles that require knowledge of Python are:
Senior Programmer
Full Stack Web Developer
Python/Django Developer
Software Engineer
Big Data Engineer
Data Scientist
Python Developer Jobs in your area
Recommended Training – Treehouse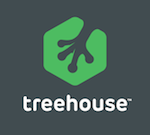 Although this site recommends various training services, our top recommendation is Treehouse.
Treehouse is an online training service that teaches web design, web development and app development with videos, quizzes and interactive coding exercises.
Treehouse's mission is to bring technology education to those who can't get it, and is committed to helping its students find jobs. If you're looking to turn coding into your career, you should consider Treehouse.
Disclosure of Material Connection: Some of the links in the post above are "affiliate links." This means if you click on the link and purchase the item, I will receive an affiliate commission. Regardless, I only recommend products or services I use personally and believe will add value to my readers.