To contact the Code Conquest team, click on this link or send an email to the following address:
hello at codeconquest.com
(replace at with the @ symbol)
All of the following are welcome:
Website suggestions/feedback
Advertising inquiries
Press inquiries
Business ventures
Recommended Training – Treehouse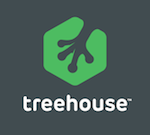 Although this site recommends various training services, our top recommendation is Treehouse.
Treehouse is an online training service that teaches web design, web development and app development with videos, quizzes and interactive coding exercises.
Treehouse's mission is to bring technology education to those who can't get it, and is committed to helping its students find jobs. If you're looking to turn coding into your career, you should consider Treehouse.