Check out our Versus articles below where we pit two languages, IDEs, frameworks, or whatever, against each other to help you make the right choice for your project. We cover the pros and cons of each, with an unbiased approach, so you have all the information you need in one place.
You can skip to the section you need to review by clicking the links below.
Sections:
Programming Languages
Frameworks
Database
---
Programming Languages
R vs Python: For Statistics and Data Science in 2020
Frameworks
Flask vs Django – Django Flask Comparison
Database
Recommended Training – Treehouse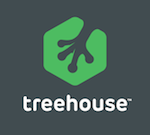 Although this site recommends various training services, our top recommendation is Treehouse.
Treehouse is an online training service that teaches web design, web development and app development with videos, quizzes and interactive coding exercises.
Treehouse's mission is to bring technology education to those who can't get it, and is committed to helping its students find jobs. If you're looking to turn coding into your career, you should consider Treehouse.
Disclosure of Material Connection: Some of the links in the post above are "affiliate links." This means if you click on the link and purchase the item, I will receive an affiliate commission. Regardless, I only recommend products or services I use personally and believe will add value to my readers.