Subscribe to Code Conquest
If you haven't already, the first thing you should do is claim your free subscription to the Code Conquest newsletter. Enter your email address below to be regularly notified of additions and changes to the site. We won't spam you, and you can unsubscribe at any time.
Code Conquest Newsletter #14
May 29, 2013
Ever wondered what a coder's tool kit looked like?
Like any craft, coding involves the use of a range of different tools that make work easier for you in some way. There are text editors, online services, design frameworks, file formats and other miscellaneous software.
Using handy tools when you can, and knowing which tool to use when, is a skill that every new coder should master. That's why this week's brand new page is a set of handy coding tools that you should think about using.
https://www.codeconquest.com/programming-tools/
Here are the different beginner-friendly tools this page will introduce you to:
Text Editors
GitHub
Heroku
Twitter Bootstrap
Stack Overflow
Markdown
HTML and CSS Validation
It's not an exhaustive set, but it'll get you off to a good start. That link again…
https://www.codeconquest.com/programming-tools/
Follow the Journey of 3 Beginners Learning Rails
This is something you'll want to pay attention to. Rohit, Sagar and Shirwa are three individuals who have two things in common.
They all have their own app idea.
They all don't know the first thing about Ruby on Rails.
Educational website Codelearn is tracking their progress as they each learn how to write their apps in Ruby on Rails. The three guinea pigs will write on the Codelearn blog once per week. We'll be able to watch how they go, and even follow along with them.
Find out more here…
http://www.codelearn.org/learn-ruby-on-rails/
Q&A with David Heinemeier Hansson
Sticking with the Rails theme, the LearnStreet blog recently published a short interview with the creator of Rails. David Heinemeier Hansson, or DHH, created Rails to power his Basecamp.com system in 2003 – and decided to release it to the public.
Last week he answered 7 questions on topics ranging from the future of Rails, his daily life and tips for new coders.
We encourage you to click the link and read DHH's answers. It's just a 5 minute read, and you'll gain an insight into the creator of one of the Internet's most popular application frameworks.
Read the short Q&A here…
http://blog.learnstreet.com/qa-with-david-heinemeier-hansson-dhh/
Quotation of the Week
'Learn by building a real application you care about.'
– David Heinemeier Hansson
Best wishes,
The Code Conquest Team
Recommended Training – Treehouse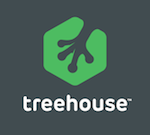 Although this site recommends various training services, our top recommendation is Treehouse.
Treehouse is an online training service that teaches web design, web development and app development with videos, quizzes and interactive coding exercises.
Treehouse's mission is to bring technology education to those who can't get it, and is committed to helping its students find jobs. If you're looking to turn coding into your career, you should consider Treehouse.
Disclosure of Material Connection: Some of the links in the post above are "affiliate links." This means if you click on the link and purchase the item, I will receive an affiliate commission. Regardless, I only recommend products or services I use personally and believe will add value to my readers.