Subscribe to Code Conquest
If you haven't already, the first thing you should do is claim your free subscription to the Code Conquest newsletter. Enter your email address below to be regularly notified of additions and changes to the site. We won't spam you, and you can unsubscribe at any time.
Code Conquest Newsletter #24
August 7, 2013
Hot on the heels of last week's iOS training recommendations, this week it's Android training.
https://www.codeconquest.com/training/android/
Android training covers the below topics:
The Java programming language
The Android software development kit
How to use an IDE like Eclipse
How to publish your Android app to Google Play
In other words, Android training teaches you everything you need to know to create your very own Android app. To find out about the best Android training, click the below link…
https://www.codeconquest.com/training/android/
Treehouse Goes iPad
Programming training service Treehouse recently released an iPad app. The app allows you to watch training videos, practice writing code and take quizzes – just like you can online. All areas of the training library are available in the app, with the exception of Android development for obvious reasons.
For more details on Treehouse, read our Treehouse review:
https://www.codeconquest.com/reviews/treehouse/
What's CoffeeScript?
Matthew Hughes of MakeUseOf.com recently wrote an article explaining the CoffeeScript programming language to the absolute newcomer. If that's you, follow the link below to find out exactly what CoffeeScript is, why you should use it and how to get started with it.
http://www.makeuseof.com/tag/coffeescript-is-javascript-without-the-headaches/
Quotation of the Week
"CoffeeScript reinvents the wheel. There's no doubt about that. However, it reinvents the wheel, and then turns it into a rhinestoned, bedazzled, sparkly wheel. CoffeeScript is a beautiful wheel indeed."
– Matthew Hughes
Thanks for reading,
The Code Conquest Team
Recommended Training – Treehouse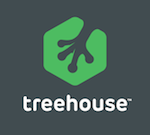 Although this site recommends various training services, our top recommendation is Treehouse.
Treehouse is an online training service that teaches web design, web development and app development with videos, quizzes and interactive coding exercises.
Treehouse's mission is to bring technology education to those who can't get it, and is committed to helping its students find jobs. If you're looking to turn coding into your career, you should consider Treehouse.
Disclosure of Material Connection: Some of the links in the post above are "affiliate links." This means if you click on the link and purchase the item, I will receive an affiliate commission. Regardless, I only recommend products or services I use personally and believe will add value to my readers.