Subscribe to Code Conquest
If you haven't already, the first thing you should do is claim your free subscription to the Code Conquest newsletter. Enter your email address below to be regularly notified of additions and changes to the site. We won't spam you, and you can unsubscribe at any time.
Code Conquest Newsletter #9
Apr 17, 2013
This isn't really news. But it's a good video, so we thought we'd share it anyway.
Douglas Rushkoff is the author of Program or Be Programmed, and in this video, he explains exactly why learning code is so important:
'When human beings acquired language, we didn't just learn to listen, we learned how to speak.'
'When human beings acquired text, we learned not just how to read, but how to write.'
'And now that we acquire computers, we should learn not just how to use them, but how to program them.'
He explains it better than we ever could! Watch the 2 minute video here…
http://www.youtube.com/watch?v=kgicuytCkoY
If you're in the mood for more videos, here are a few we shared in previous newsletter issues, which you may have missed…
Obama Supports Required High School Coding Classes
http://www.youtube.com/watch?v=kp_zigxMS-Y&t=27m44s
Zuckerberg, Gates, Will. I. Am on Learning Code
http://www.youtube.com/watch?v=dU1xS07N-FA
Code Conquest Content Update #4
New articles written since last week include:
Online Programming Training
Programming Books
We're super excited about these new pages arriving on the site, because they're overflowing with useful information on the top coding training and books on the market. These pages are where we hope you'll find the right training to help you learn code and achieve your dreams.
Quotation of the Week
"If you can program a computer, you can achieve your dreams."
– Dick Costolo
CEO, Twitter
Stay tuned,
The Code Conquest Team
Recommended Training – Treehouse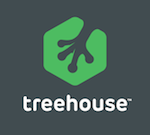 Although this site recommends various training services, our top recommendation is Treehouse.
Treehouse is an online training service that teaches web design, web development and app development with videos, quizzes and interactive coding exercises.
Treehouse's mission is to bring technology education to those who can't get it, and is committed to helping its students find jobs. If you're looking to turn coding into your career, you should consider Treehouse.
Disclosure of Material Connection: Some of the links in the post above are "affiliate links." This means if you click on the link and purchase the item, I will receive an affiliate commission. Regardless, I only recommend products or services I use personally and believe will add value to my readers.