Subscribe to Code Conquest
If you haven't already, the first thing you should do is claim your free subscription to the Code Conquest newsletter. Enter your email address below to be regularly notified of additions and changes to the site. We won't spam you, and you can unsubscribe at any time.
Code Conquest Newsletter #16
June 12, 2013
Have you ever considered turning coding into your career? We'll grant you that it's hard to know how to get from where you are now to being job-ready.
What should you specialize in? Where do you train? Where should you look for jobs? And how can you maximize your chance of getting hired?
Still, whether you've been coding as a hobby for some time – or you have zero experience – landing a job as an entry-level coder is within your reach.
So make sure you read the new Finding a Job in Coding article at Code Conquest. It answers all the above questions and provides plenty of actionable information to get you started in your job-search.
Read it all here…
https://www.codeconquest.com/finding-job-programmer/
Programmer Job Searches
If that article wasn't enough, here is a great new place to search for the perfect job. Treehouse launched a free job board this week. You can find out more about Treehouse at…
https://www.codeconquest.com/reviews/treehouse/
Comprehensive Database of Coding Training
One last link for today.
Degreed.com has searched the Internet and put together a collection of the best free and low-cost learning resources online. Take a look and you might discover some coding training you never knew existed!
http://www.degreed.com/about/resources/
Quotation of the Week
'A program is like a poem: you cannot write a poem without writing it. Yet people talk about programming as if it were a production process and measure "programmer productivity" in terms of "number of lines of code produced". In so doing they book that number on the wrong side of the ledger. We should always refer to "the number of lines of code spent".'
– E. W. Dijkstra
Later,
The Code Conquest Team
Recommended Training – Treehouse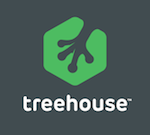 Although this site recommends various training services, our top recommendation is Treehouse.
Treehouse is an online training service that teaches web design, web development and app development with videos, quizzes and interactive coding exercises.
Treehouse's mission is to bring technology education to those who can't get it, and is committed to helping its students find jobs. If you're looking to turn coding into your career, you should consider Treehouse.
Disclosure of Material Connection: Some of the links in the post above are "affiliate links." This means if you click on the link and purchase the item, I will receive an affiliate commission. Regardless, I only recommend products or services I use personally and believe will add value to my readers.