Subscribe to Code Conquest
If you haven't already, the first thing you should do is claim your free subscription to the Code Conquest newsletter. Enter your email address below to be regularly notified of additions and changes to the site. We won't spam you, and you can unsubscribe at any time.
Code Conquest Newsletter #22
July 24, 2013
This was fun last week, so let's have another round of guess the programming language. Here are your five clues.
1. It was designed in 1991.
2. It's a multi-purpose language.
3. It's known for its simple syntax and readability.
4. It's used by Google.
5. And its creator is Guido van Rossum.
Can you guess it?
It's Python – and what do you know? It just so happens to be the subject of this week's training recommendations.
https://www.codeconquest.com/training/python/
If you're interested in learning Python, this article is for you. You'll find out about 5 quality sources of Python training, including online training from lynda.com and Codecademy, and a hand-picked selection of books.
Here's the link again…
https://www.codeconquest.com/training/python/
We Need YOUR Feedback!
As you should know, what you are currently reading is a weekly newsletter for those who are new to programming. What we include in each issue should really be determined by what YOU want to know about. Right?
So we want to hear your ideas. Do you want more information on training, more success stories, or something different altogether? To leave your feedback, all you need to do is write a short reply to this email. We promise to read your reply carefully and use it to shape the future of this newsletter.
Quotation of the Week
"I think that great programming is not all that dissimilar to great art."
– Jack Dorsey
Creator, Twitter
Awaiting your reply,
The Code Conquest Team
Recommended Training – Treehouse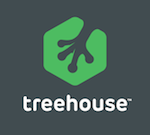 Although this site recommends various training services, our top recommendation is Treehouse.
Treehouse is an online training service that teaches web design, web development and app development with videos, quizzes and interactive coding exercises.
Treehouse's mission is to bring technology education to those who can't get it, and is committed to helping its students find jobs. If you're looking to turn coding into your career, you should consider Treehouse.
Disclosure of Material Connection: Some of the links in the post above are "affiliate links." This means if you click on the link and purchase the item, I will receive an affiliate commission. Regardless, I only recommend products or services I use personally and believe will add value to my readers.