Subscribe to Code Conquest
If you haven't already, the first thing you should do is claim your free subscription to the Code Conquest newsletter. Enter your email address below to be regularly notified of additions and changes to the site. We won't spam you, and you can unsubscribe at any time.
Code Conquest Newsletter #13
May 22, 2013
It's Wednesday again, which means it's time for your weekly dose of coding help from Code Conquest. Here's what's in store for you this week.
As you know, mobile apps have been the craze for quite some time. We've talked about app development many times here in the newsletter.
However, we thought it was time we created a full beginner's crash course to learning mobile app development. And so we've done that. Here's the link…
https://www.codeconquest.com/what-is-coding/mobile-programming/
How to Learn App Development is an overview of the different parts of app development you should learn, and the different methods of learning them. It explains the differences between iOS and Android, and provides links to some of the best online training and books for learning how to make apps.
That link again…
https://www.codeconquest.com/what-is-coding/mobile-programming/
Learning Code is the New Carpentry
Scott Sterling of DigitalTrends.com recently wrote an interesting article that compares coding skills to carpentry skills. He says that just like carpentry skills once made a person "handy", coding skills will be tomorrow's version of "handy". Here's an excerpt:
"Our intelligent thermostats, refrigerators, and entertainment systems. Even if technology continues to improve the reliability of these devices so they rarely break down, those who can code will be the ones who can tinker with them, customize them and reprogram them to do exactly what they want. Hey, doesn't Cousin Jim know how to code in C? Can you have him come over to look at the thermostat?"
Read the full article…
http://www.digitaltrends.com/computing/learning-to-code-is-the-new-carpentry-grab-a-hammer-now/
Quotation of the Week
'People who have the knowledge and skills to get dirty in the code of a machine will be tomorrow's version of "handy."'
– Scott Sterling
Take care,
The Code Conquest Team
Recommended Training – Treehouse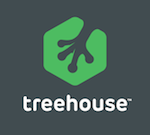 Although this site recommends various training services, our top recommendation is Treehouse.
Treehouse is an online training service that teaches web design, web development and app development with videos, quizzes and interactive coding exercises.
Treehouse's mission is to bring technology education to those who can't get it, and is committed to helping its students find jobs. If you're looking to turn coding into your career, you should consider Treehouse.
Disclosure of Material Connection: Some of the links in the post above are "affiliate links." This means if you click on the link and purchase the item, I will receive an affiliate commission. Regardless, I only recommend products or services I use personally and believe will add value to my readers.