Subscribe to Code Conquest
If you haven't already, the first thing you should do is claim your free subscription to the Code Conquest newsletter. Enter your email address below to be regularly notified of additions and changes to the site. We won't spam you, and you can unsubscribe at any time.
Code Conquest Newsletter #17
June 19, 2013
So you have an idea for the next revolutionary product. Perhaps you dream of building the next Facebook, or an empire of income-generating mobile apps.
Just like finding a job from last week's newsletter, starting a software business is a surprisingly simple process. Hard work, definitely. But a simple process.
A new page at Code Conquest, Starting a Software Business, outlines that process.
https://www.codeconquest.com/starting-software-business/
This page goes over two of the best choices of product you have – mobile apps and SaaS. Plus, it's packed full of simple tips on defining your product, building your product, building your business and how to train yourself. That link again…
https://www.codeconquest.com/starting-software-business/
All About Node.js
If you've ever wondered about Node.js, this is for you. Constantine Aaron Cois recently wrote an article at the Udemy blog explaining why Node.js gets so much attention from programmers.
Hint: it's to do with the way it handles "real-time" or "asynchronous" programming.
Read the article here…
https://www.udemy.com/blog/learn-node-js/
How Three Guys Rebuilt the Foundation of Facebook
To finish up this week, here's an interesting read on how three software engineers rewrote the code that underpins Facebook. Using the PHP programming language, their challenge was to speed up the Facebook back-end – without changing the site itself.
Read about it here…
http://www.wired.com/wiredenterprise/2013/06/facebook-hhvm-saga/
Quotation of the Week
'Good code is short, simple, and symmetrical – the challenge is figuring out how to get there.'
– Sean Parent
Good luck,
The Code Conquest Team
Recommended Training – Treehouse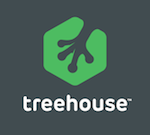 Although this site recommends various training services, our top recommendation is Treehouse.
Treehouse is an online training service that teaches web design, web development and app development with videos, quizzes and interactive coding exercises.
Treehouse's mission is to bring technology education to those who can't get it, and is committed to helping its students find jobs. If you're looking to turn coding into your career, you should consider Treehouse.
Disclosure of Material Connection: Some of the links in the post above are "affiliate links." This means if you click on the link and purchase the item, I will receive an affiliate commission. Regardless, I only recommend products or services I use personally and believe will add value to my readers.