Subscribe to Code Conquest
If you haven't already, the first thing you should do is claim your free subscription to the Code Conquest newsletter. Enter your email address below to be regularly notified of additions and changes to the site. We won't spam you, and you can unsubscribe at any time.
Code Conquest Newsletter #30
September 17, 2013
We've been busy spring cleaning the website over the past week. In fact, there are three main changes we made and want to share with you.
Firstly, our review of Treehouse has been totally rewritten and updated.
https://www.codeconquest.com/reviews/treehouse/
Treehouse, if you didn't know, is a technology training website highly recommended by Code Conquest. The new-look review focuses on its unique advantages, like its focus on projects and practical skills, and its career and business support.
The second change we've made is to the home page.
We've tweaked it to make it clear what the main divisions of the site are, and to better direct you to where you want to go. In fact, you may notice a new link that wasn't there before. This is the Knowledge Center.
https://www.codeconquest.com/knowledge-center/
The knowledge center is simply a new way of organizing many of the informational articles that already exist at Code Conquest. Now you can find them all in one place.
We have plans to add plenty more information to the knowledge center over the coming months.
Here are the links one last time:
New Treehouse Review
https://www.codeconquest.com/reviews/treehouse/
Knowledge Center
https://www.codeconquest.com/knowledge-center/
New Home Page
https://www.codeconquest.com
We're confident you appreciate these updates.
Quotation of the Week
"Learning to code, just a little, helped me immensely in my career. I can converse and create with the rising leaders of the next generation, the coders themselves."
– Jason Hirschorn
President, Sling Media
Best regards,
The Code Conquest Team
Recommended Training – Treehouse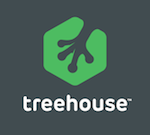 Although this site recommends various training services, our top recommendation is Treehouse.
Treehouse is an online training service that teaches web design, web development and app development with videos, quizzes and interactive coding exercises.
Treehouse's mission is to bring technology education to those who can't get it, and is committed to helping its students find jobs. If you're looking to turn coding into your career, you should consider Treehouse.
Disclosure of Material Connection: Some of the links in the post above are "affiliate links." This means if you click on the link and purchase the item, I will receive an affiliate commission. Regardless, I only recommend products or services I use personally and believe will add value to my readers.