Data analysis is one of the most in-demand skills nowadays. In the era when we are creating a lot of data with every click on our phone and computers, Data has become equivalent to fuel. Nowadays, Companies want to gain insights from data available to them so that they can use the information in decision making. For this, they need data analysts with good skills. In this article, we will look at what data analysts do, why you can choose to be a data analyst and how you can become a data analyst.
Who is a data analyst?
In simple terms, Data analysts are people who analyze data to extract useful information from it. Being a data analyst, you will need to extract useful trends and critical information from raw data that may help your company increase their business.
Generally, Data analysts are also responsible for interpreting the extracted knowledge from the data to the managers and executives. Because they are the people who can design and execute policies based on the extracted knowledge.
Skills needed for a Data Analysis
Analytical Skills: As I said, you will need to analyze data to extract information. So, Good analytical skills are the first requirement for a successful data analyst job.
Communication Skills: You will also need to explain the extracted information to the managers and executives. You also need to be better at explaining the critical concepts and trends. So, good communication skills are a must to become a good analyst.
Programming :As you will be working with raw data, turning the data into a suitable form that will help you to gain insights is a tedious task. For this, you will need to have a good knowledge of text processing skills. You can learn programming languages like python and R to perform this task. I will suggest that you learn python as it has a wide range of applications that will help you to automate other tasks too.
Technical skills: Being a data analyst, you also need to have a good understanding of data analysis tools like SPSS, Tableau, Power BI, Microsoft Excel, etc. You may also learn to code our own data analysis tool using the python programming language.
Structured Query Language(SQL): Database management systems are generally accessed using query languages. Learning SQL is a must to work efficiently with different databases.
Why should you choose to be a data analyst?
Well, everyone has their own reason for doing a job. But, every job has some specialty that makes it stand out from the rest of the jobs. Let's discuss some of the specialties of a data analyst job that may tempt you to become a data analyst.
It's exciting: As a data analyst, you will be generating useful information from data that initially has no meaning. The insights produced by you will be important for taking critical business decisions in ambiguous situations. With such an important role, your journey will surely become exciting.
Data analysis has a wide area of application: A data analyst is not bound to a single industry. At one point of time you can be working with an Information technology giant like Amazon. At some other instance, you might be producing useful insights for a healthcare service provider from its consumer's data. Data is being produced and used in every industry. It means that data analysts are required in every industry. You can choose an industry as per your choice to apply your data analysis skills.
Data analysts get better Salaries: As you are supposed to provide information that is important for taking critical business decisions, companies will always want you to be happy with them. As a data analyst, you can earn anywhere from $50k to $120k based on your skills and experience.
Data analysts have power to drive changes: With a huge amount of data around you, you are in a situation where you can provide insights that can completely change the way a company works. So, with other responsibilities, you also get some powers that others don't have.
How to become a data analyst
We have already discussed the skills required to become a data analyst. Let us now discuss how you can acquire those skills to be a data analyst.
Recommended Training – Treehouse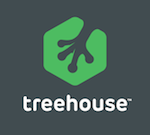 Although this site recommends various training services, our top recommendation is Treehouse.
Treehouse is an online training service that teaches web design, web development and app development with videos, quizzes and interactive coding exercises.
Treehouse's mission is to bring technology education to those who can't get it, and is committed to helping its students find jobs. If you're looking to turn coding into your career, you should consider Treehouse.
Learn the fundamentals: The first step to get into the shoes of a data analyst is to learn the basics like programming, SQL, statistics, and communication skills. You can acquire these skills from online courses offered by different platforms. You can also start with a book and follow it step by step to gain the knowledge. But, I would suggest that you should audit an introductory course before reading the books.
Practice: Practice makes a man perfect. Data analysis is not a skill that you can learn entirely by reading books. In real word, you can encounter data in different forms. To gain skills to create useful insights from each type of data, you must work on projects that include real world problems from websites like Kaggle.
Find an Internship: Internships are a great way to understand how things work in real life. After acquiring basic knowledge and doing projects, head to different platforms like LinkedIn to find an internship for you.
Keep Learning: Data analysis is a rapidly evolving area. The skills learnt by you today can be obsolete after a few years. If you don't evolve with time, you will also become obsolete in the industry. So, keep learning to improve your skills.
Create a portfolio:There is no better way to show your skills than showing your achievements. Create a portfolio website or a GitHub repository of all your projects. This will help you pitch your skills effectively to employers or clients.
Conclusion
In this article, we have discussed several aspects of a data analyst job. To become a good data analyst, you will need soft skills as well as technical skills. Try to learn the skills discussed in this article and give your career a headstart by becoming a data analyst.
Disclosure of Material Connection: Some of the links in the post above are "affiliate links." This means if you click on the link and purchase the item, I will receive an affiliate commission. Regardless, I only recommend products or services I use personally and believe will add value to my readers.