Python has become one of the most popular programming languages in recent years. With growing popularity, demand for python developers has also grown exponentially. In this article, we will discuss different types of jobs for python developers. Python developer jobs nowadays can be found in almost every field related to software or data.
Web Developer
Web developers are required to write code for server-side operations of a web application. If you are thinking about getting a job as a web developer after learning Python, You will have to learn different technologies other than core python. You will need a good knowledge of database management systems, Django or Flask web frameworks, and APIs. You may also need to have a knowledge of libraries like Tkinter to develop graphical user interface based web applications. Besides other technical skills, you will also need a good understanding of web frameworks and scripting languages such as HTML and CSS to excel as a web developer.
Software Developer
To become a software developer, you will need to learn python programming, different web frameworks, database management systems, object-oriented programming, object-relational mappers, to name a few. You will also need a good understanding of computer architecture, different operating systems, multi-process architecture, and REST APIs to develop useful software applications. It is also important to have a good knowledge of front-end technologies and tools to ace this field.
Data Analyst
Data is the fuel of the 21st century. With each click on a computer or a mobile device, a lot of data is being generated and stored by the businesses to use it for their business. If you can analyze the data and take out valuable information from the data that profits the company, they will pay you a lot of money.
To become a data analyst, you will need to have a good understanding of mathematics and statistics. For interpretation and analysis of data, you will need to learn python libraries like Pandas, Matplotlib, Numpy, and Seaborn. Learning these python libraries may award you a good career with python.
Recommended Training – Treehouse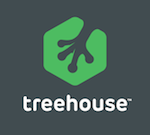 Although this site recommends various training services, our top recommendation is Treehouse.
Treehouse is an online training service that teaches web design, web development and app development with videos, quizzes and interactive coding exercises.
Treehouse's mission is to bring technology education to those who can't get it, and is committed to helping its students find jobs. If you're looking to turn coding into your career, you should consider Treehouse.
Artificial Intelligence Engineer
Artificial intelligence is one of the fastest-growing fields among digital technologies and Python has contributed significantly to its growth. As an artificial intelligence engineer, you will need to perform natural language processing, knowledge representation, and cognitive simulation of any real-world tasks. For these tasks, you will have to learn python programming, data modeling, deep learning, neural networks, etc.
Machine Learning Engineer
A machine learning engineer is someone who has the ability to make machines perform tasks like humans. As a machine learning engineer, you will have to utilize machine learning knowledge and your creativity to design and implement software to simulate tasks such as face detection, anomaly detection, classification, clustering, and making predictions. To perform these tasks, you will need to understand different concepts such as neural networks, statistics, mathematics, to name a few. You will also need to learn python programming with expertise in libraries such as TensorFlow, scikit-learn, Scipy, Pandas, and Numpy.
Data Scientist
This is one of the highest-paid jobs in Python. Why? Because you will need to be a jack of all trades. A data scientist is someone who can fit into the shoes of a data analyst, a machine learning engineer, an artificial intelligence engineer, a mathematician, or a statistician.
To become a good data scientist, you will have to learn all the skills these professionals need. Skills needed for a data scientist are data analysis, manipulation, interpretation, mathematics, statistics, machine learning algorithms, and data visualization. In addition, you will have to learn python libraries such as Pandas, Matplotlib, Numpy, Seaborn, TensorFlow, scikit-learn, and Scipy to name a few.
If you are someone who can master many skills at once, you are already qualified to become a data scientist. So, learn the skills, get a job as a data scientist and enjoy your life.
Automation Testing Engineer
All the developed software applications are required to undergo testing to make sure that they work as desired. To identify processes for automation and to design and execute python scripts for automation, you will need to have a thorough understanding of python programming and technologies for automation. To become an automation testing engineer, you will need to learn selenium web drivers in python and other technologies such as TestNG and ATLC methodology. Product Manager
Educator
While everyone is busy learning Python and doing different jobs, you can choose to be an educator. Being an educator, you can join full-time roles, create online courses, or train people in coding boot camps.
Data Journalist
A data journalist is someone who specializes in using data to tell stories. Nowadays, Journalists with skills in programming are highly valued due to their ability to extract knowledge from available data.
If you have come this far, you must understand various jobs for python developers. But do you have a reason to learn python programming? In the next section, we will look at why you should learn Python and become a python developer.
Why should you become a Python Developer?
Python is one of the easiest programming languages to learn. But this cannot be a reason enough to learn python programming. So let us look at some of the reasons why you might want to learn python programming.
Wide Variety of Job Opportunities as a Python Developer
As discussed above, There are a wide variety of jobs for python developers. You may choose to be a web developer or you may choose to be a data journalist as per your wish. Python is used in almost every aspect of the digital ecosystem and you can choose to be a part according to your choice.
Increasing Demand of Python Developer Jobs
In recent years, python has become more and more popular. It has also resulted in increased jobs for python developers. Industries are increasingly using python in their core technology stack. This has resulted in high demands for python developers. Due to high demand, salaries are also high for python developers, and who doesn't like more money?
Enormous Growth Opportunities as a Python Developer
With major tech companies using python, there are enormous growth opportunities for python developers. Companies like NetFlix, Facebook, and Google use Python and they provide the best employee benefits in the market. Joining these companies as a python developer will give a different trajectory to your career. Even if you are working in small companies as a data scientist or a data analyst, you will have better growth opportunities.
Salary
The annual salary for a python developer in India can be anywhere from $120,000 to $200,000. If you have the required experience and skills, companies like Accenture, Cognizant, Google, Goldman Sachs, and others will offer you a great salary. Senior python developers in these companies have an average salary of $180,000. As a web developer, you can earn up to $120,000 per annum at the start of your career, but the sky's the limit. Data science and analytics jobs also fetch you a good salary. If money attracts you and you have an interest in any of these jobs for python, You should start to learn python programming right now.
Conclusion
In this article, we have discussed different python developer jobs and their requirements. We have also discussed some reasons to become a python developer. To become a python developer, you can learn to code using python programming language. Stay tuned for more informative articles.
Disclosure of Material Connection: Some of the links in the post above are "affiliate links." This means if you click on the link and purchase the item, I will receive an affiliate commission. Regardless, I only recommend products or services I use personally and believe will add value to my readers.