Subscribe to Code Conquest
If you haven't already, the first thing you should do is claim your free subscription to the Code Conquest newsletter. Enter your email address below to be regularly notified of additions and changes to the site. We won't spam you, and you can unsubscribe at any time.
Code Conquest Newsletter #26
August 20, 2013
Hey! Hope you're still enjoying the Code Conquest newsletter. Over the past 8 weeks, we've been rolling out a series of training recommendation articles – starting with HTML and progressing through to some more advanced languages.
Whether you've been enjoying them or you've been bored out of your mind – today's the last one. And it's C++.
https://www.codeconquest.com/training/cpp/
C++ is the language of choice for game developers, and also powers much of Microsoft Windows. So there are many opportunities available for C++ programmers.
This new article picks out some of the best available training for C++, including a course at lynda.com and 3 specialist books. Here's the full list:
https://www.codeconquest.com/training/cpp/
Case Study: Building an IMDB Clone
If you like reading about the programming projects others have created, you'll love this. Justinus Adriaanse recently wrote a post at the Starter League Blog about a programming project he worked on. The project, if you're wondering, was an Internet Movie Database clone he built with Rails. Impressive!
http://www.starterleague.com/tar/posts/guest-student-post-building-our-own-imdb
Quotation of the Week
"Coders are the life blood of innovation."
– Ron Conway
Stay well,
The Code Conquest Team
Recommended Training – Treehouse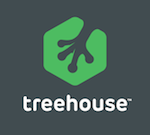 Although this site recommends various training services, our top recommendation is Treehouse.
Treehouse is an online training service that teaches web design, web development and app development with videos, quizzes and interactive coding exercises.
Treehouse's mission is to bring technology education to those who can't get it, and is committed to helping its students find jobs. If you're looking to turn coding into your career, you should consider Treehouse.
Disclosure of Material Connection: Some of the links in the post above are "affiliate links." This means if you click on the link and purchase the item, I will receive an affiliate commission. Regardless, I only recommend products or services I use personally and believe will add value to my readers.