Subscribe to Code Conquest
If you haven't already, the first thing you should do is claim your free subscription to the Code Conquest newsletter. Enter your email address below to be regularly notified of additions and changes to the site. We won't spam you, and you can unsubscribe at any time.
Code Conquest Newsletter #29
September 10, 2013
We hope you enjoyed reading the review of lynda.com shared in last week's newsletter. No doubt, you know now that there are more websites out there for learning computer programming than just the obvious ones like Codecademy.
This week, we've followed it up with a review of Code School, another lesser-known training website. Code School's motto is 'learn by doing', and it lets you experiment with code as you go through its lessons. To find out about the pros and cons of using Code School as training, read our newly published Code School review at:
https://www.codeconquest.com/reviews/code-school/
Quotation of the Week
"Programming is how we talk to the machines that are increasingly woven into our lives. If you aren't a programmer, you're like one of the unlettered people of the Middle Ages who were told what to think by the literate priesthood. We had a Renaissance when more people could read and write; we'll have another one when everyone programs."
– Tim O'Reilly
Founder, O'Reilly Media
Cheers,
The Code Conquest Team
Recommended Training – Treehouse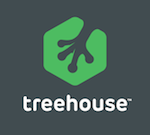 Although this site recommends various training services, our top recommendation is Treehouse.
Treehouse is an online training service that teaches web design, web development and app development with videos, quizzes and interactive coding exercises.
Treehouse's mission is to bring technology education to those who can't get it, and is committed to helping its students find jobs. If you're looking to turn coding into your career, you should consider Treehouse.
Disclosure of Material Connection: Some of the links in the post above are "affiliate links." This means if you click on the link and purchase the item, I will receive an affiliate commission. Regardless, I only recommend products or services I use personally and believe will add value to my readers.